This post has been compensated by Collective Bias, Inc. and AcneFree. All opinions are mine alone. #AcneFreeSummer #AcneFreeLife #CollectiveBias
Hi, everyone! Today I will be sharing how AcneFree helps create a clean foundation for one less thing to worry about in your fall schedule, whether that involves a busy day at school or work. The "kit" products provide an easy routine to follow for those just starting out with a skin care regimen or picking one back up. I love that these products can easily be found at Walgreens, Walmart and even online at Amazon. I bought all mine through Amazon which included Prime shipping! I started using this kit to get my skin cleared for back-to-school so I can go all natural and spend less time getting ready. The products really do a great job and the price for the kit was very affordable! AcneFree products were easy to add into my beauty regimen so below is a tutorial on how to use each product so you can add it into your daily routine.
I picked up the
AcneFree Sensitive Skin 24 Hour Acne Clearing System
that is the only acne clearing regimen designed for sensitive skin. It is a highly effective three-step system that is gentle on your skin yet tough on acne. Consistent use controls new breakouts, reduces redness and eliminates blackheads around the clock. AcneFree is the only brand that makes acne-clearing systems formulated with Advanced Micro-Benzoyl Peroxide. Micro-sized benzoyl peroxide is designed to work faster and penetrate deeper into pores without the harshness and over-drying that can occur with traditional benzoyl peroxide. The AcneFree Sensitive Skin 24-Hour Acne Clearing System includes Corrective Acne Cleanser, Alcohol-Free Acne Toner, and Hydrating Acne Repair Lotion + Spot Treatment. Three simple steps, twice a day for clearer skin!
Step 1:
Corrective Acne Cleanser gently deep-cleans to remove pore-clogging oil and impurities. This sulfate-free cleanser fights acne with Salicylic Acid (1.5%) while botanical extracts soothe the skin. Use to cleanse skin every morning and evening. You can also use it on your chest and back. After applying you just wash off with a warm wash cloth.
Step 2:
Alcohol-Free Acne Toner helps to balance skin tone and remove dead skin cells with natural fruit extracts. This calming and anti-redness formula is gentle enough for sensitive skin. After applying on a cotton pad you let air dry before moving to the next step. This left my skin feeling so smooth and fresh feeling. For use, twice a day after cleansing can also be used on your chest and back.
Step 3:
Hydrating Acne Repair Lotion + Spot Treatment with Micro-benzoyl Peroxide offers 24-hour continuous clearing when used twice a day. Micro-sized acne medicine benzoyl peroxide (3%) is easily absorbed into pores to eliminate acne bacteria and provide continuous breakout control.
This isn't part of the AcneFree Sensitive Skin 24 Hour Acne Clearing System but it works get with the kit. This
AcneFree Therapeutic Sulfur Mask
is a deep penetrating pore therapy to help soothe acne-inflamed skin and absorb excess oil. The therapeutic formula features Sulfur, a natural and effective acne treatment ingredient. Vitamin C, Copper, Zinc, and Meadowsweet help to minimize the appearance of pores and refine skin tone and texture. The AcneFree Therapeutic Sulfur Mask leaves skin feeling fresh with a healthy glow.
Directions for Use: Apply to the affected areas after cleanser and toner. Can be used on entire face, chest, and back, or as a spot treatment. Massage until mask turns blue (3 min) and leave on for additional 10 min. I loved the way this mask felt, it really tightened and made my face feel tingly. After waiting for 10 min, rinse well with a warm wet wash cloth. Use 2-3 times a week. I use it after I apply the AcneFree Sensitive Skin 24 Hour Acne Clearing System.
Hover over the products in the photo to purchase them online!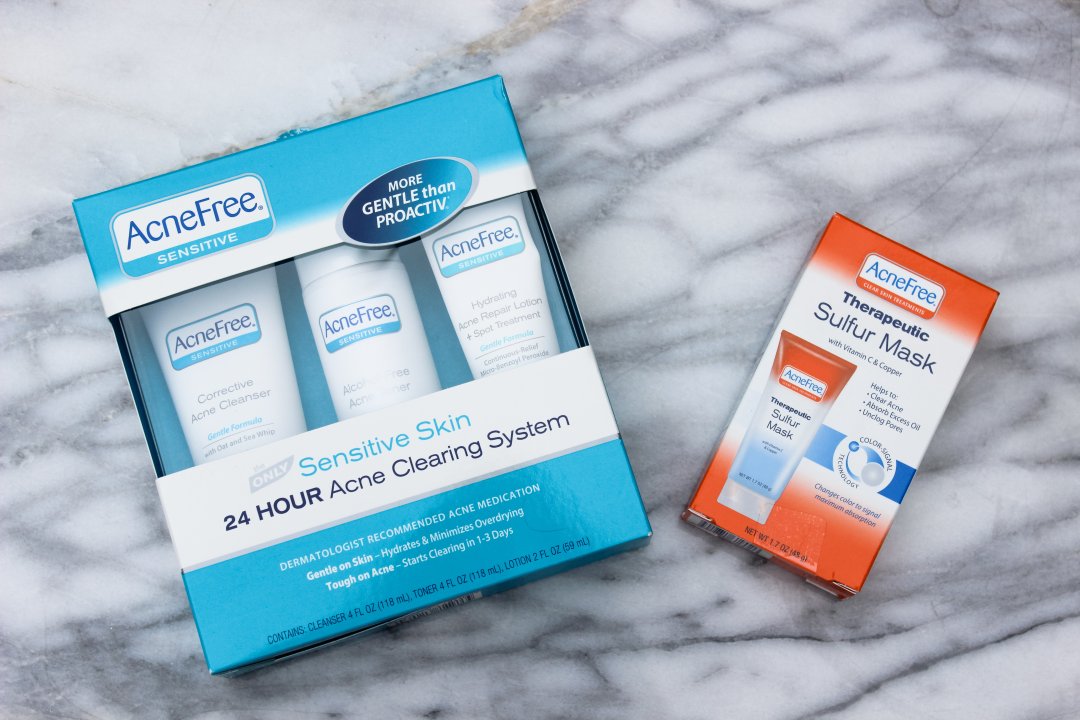 Sweepstakes:
Right now AcneFree is launching 4-week sweepstakes on August 14th, 2017. 3 Grand Prize Winners will win $1,000 spending money and AcneFree Supplies for a year. Additionally, AcneFree will give away 10 AcneFree 24-Hour Acne Clearing Systems every week for 4 weeks. there is a Sweepstakes going on. To participate in the #AcneFreeLife Sweepstakes-See Visible Results in As Few As 3 Days! No Purchase Necessary. To enter, simply enter your name and email address
http://cbi.as/9rasp
.
Use the form to follow on Instagram and Facebook to earn extra entries. For more information full rules, log on
http://cbi.as/9rasp. See how others enjoy the benefit of #AcneFree skin here!