This post has been compensated by Collective Bias, Inc. and Macy's. All opinions are mine alone. #WatchHowIStyle #CollectiveBias
With the holiday's right around the corner there is so much to do. Gift shopping, baking and attending holiday parties. When it comes to getting ready for a holiday party, it can be a little tricky to know what to wear. Should you go all out in bright red and a velvet skirt or keep it simple with navy and a patterned blouse. Either way, today I am sharing the one accessory you need and how to style it.
Wanna know the one accessory you to need to create any stylish look?
A watch! Watches are so elegant, no matter the occasion, it tells people that you have style. It is such a simple way to show off your personal style but also look put together and sophisticated. One of my favorite watches is from
Anne Klein.
It is a light pink ceramic bracelet with rose gold accents and a rectangular case. The watch is feminine and adds the perfect hint of pink to any look. It is going to be so easy for me to style it all year round. Anne Klein watches function as practical timepieces or pieces of jewelry perfect for staying on schedule while on trend. If you are stuck in a rut of what to get your moms, sister or friend for the holidays, a watch makes the perfect gift! Anne Klein is offering box sets from Macy's that feature a watch and bracelet combo that makes for beautiful arm candy and an easy affordable way to accessorize any wardrobe. Box sets are perfect for anyone who wants to take part in the current jewelry stacking trend but are unsure how to pair pieces or simply doesn't have the time to think about it.
Wanna know how to style your new watch?
I love pairing my watch with an outfit that matches but also like to keep it simple so my watch can be a statement piece on its own. The look I am wearing above is great for the office or for a casual holiday party. The blouse I am wearing has a little pink in it so it is the perfect combo. I am so excited about adding this watch to my collection because of how easy it will be to style all year rounds. In Spring, it will go with everything because of all the pastels I will be wearing. The nice thing about Anne Klein watches is they come in a variety of different shapes, sizes, colors, and materials. You can find something that fits your style so easily. You can shop my watch by clicking on the image below or by clicking
here
. The style number is AK/2952LPRG.
Like my watch? Click the image below to shop it! Just as a heads up it is currently on sale for under $100 at
Macy's
making it the perfect gift to give!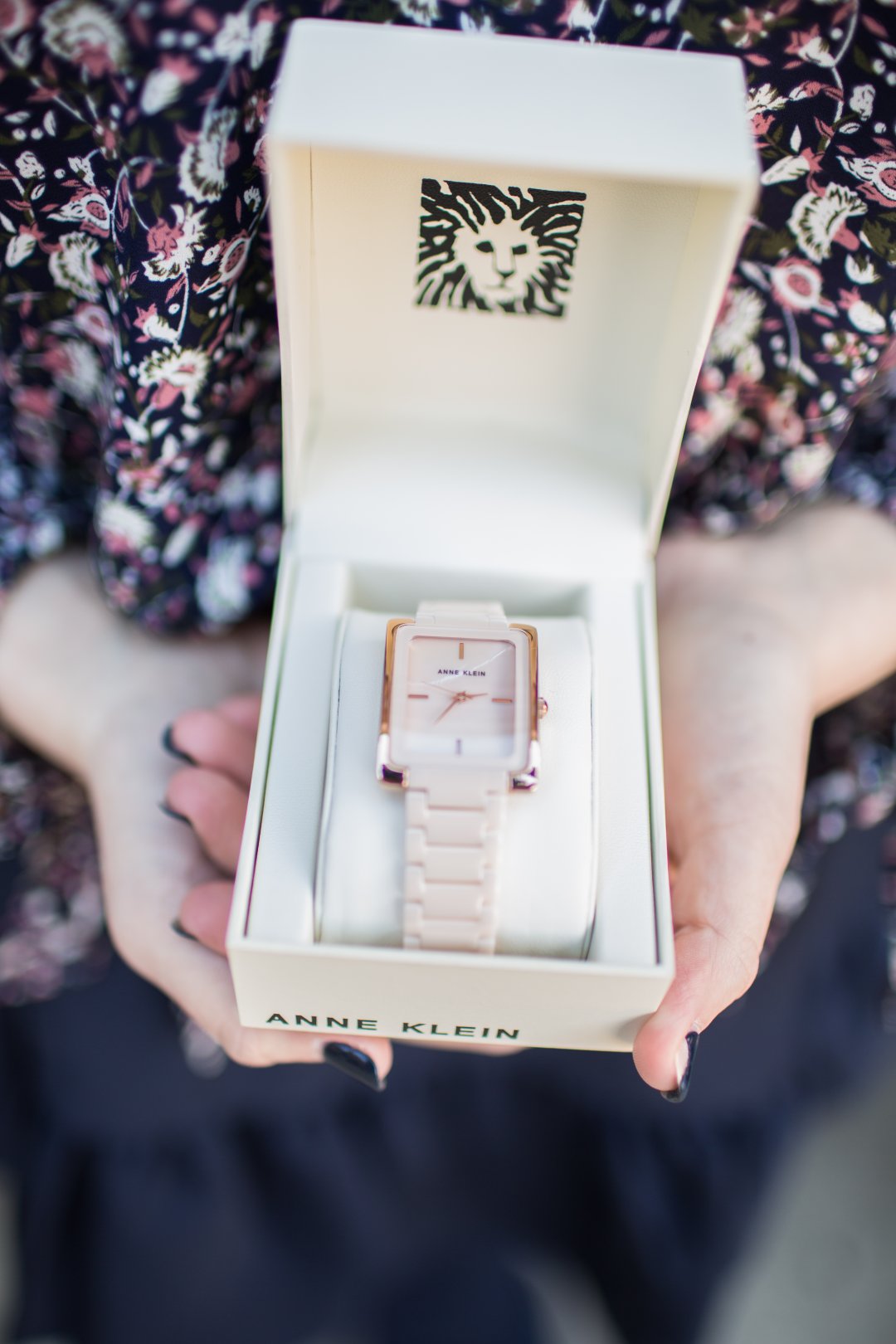 Anne Klein watches can easily be found in Macy's in the watch section. Anne Klein has their own case (image below) so you can shop all the styles in on place. They also have their box sets sitting on the counter of the case! Happy shopping!